Jaime Martins Barata
Portuguese painter and scholar
(1899-1970)
A generation of artists
While studying to become a math teacher, Martins Barata continued to pursue his amateur interests in painting. He therefore frequented the Sociedade Nacional de Belas-Artes (The Portuguese Fine Arts Society). Here he was introduced to a truly remarkable generation of artists--painters, sculptors, architects--with whom he would share his interests in painting. Some of these acquaintances would later lead to professional collaborations and liefelong friendships.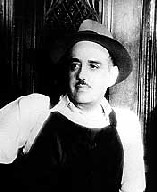 Martins Barata's "best pal" was José Manuel Leitão de Barros. The two amateur watercolor painters would eventually marry two sisters, Mamia and Helena, who happened to be daughters of Roque Gameiro and also watercolor painters! Born in Lisbon in 1896, Leitão de Barros studied at the University of Lisbon. Like Martins Barata, he was a man of many talents and interests: teacher, painter, journalist, literary and theatrical author. His best-known work was however as a film director. In 1918, he joined the Lusitania Film Group and, with Cottinelli Telmo, worked on Malmequer. Throughout his distinguished career, he directed a great number of films, including Maria do Mar (1930), Lisboa: Crónica Anedóctica (1931), A Severa (1935), Maria Papoila (1939), and Ala-Arriba (1944). His efforts led to the creation of Tobis Portuguesa, one of Portugal's leading film studios.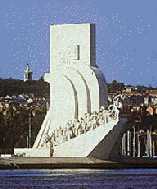 Part of the same group was José A. Cottinelli Telmo (1897-1948), who would eventually marry one of Leitão de Barros' sisters. Trained as an architect, Cottinelli Telmo signed some of the most important projects in Portuguese architecture of the 20th Century. In 1940, he was appointed chief architect of the Portuguese World Expo, for which he brought together most of the artistic talent then present in Portugal, including, in addition to Martins Barata, many of the names listed on this page. On the site of the expo, he later led the architectural project for Lisbon's monument to the discoveries (photo on the left).
In addition to being a great architect, Cottinelli Telmo was also a distinguished film director. His work in this area started with Malmequer (1918) and includes Canção de Lisboa (1933), the first Portuguese film with soundtrack.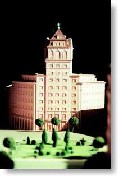 Also part of the same group of artists and architects was Luís Cristino da Silva (1896-1976), who, like Cottinelli Telmo, was one of Portugal's leading architects of the 20th Century. The photo on the left shows the model for a series of buildings in Areeiro Square (Lisbon, Portugal).

In the early 1920s, Martins Barata, Leitão de Barros and José Stuart Carvalhais (1887-1961) collaborated in the magazine ABC (on the left, a 1920 magazine cover by Carvalhais, exhibited at the Gulbenkian Foundation's Center for Modern Art in Lisbon, Portugal). Later, they created a new magazine, the Noticias Ilustrado.

During the early days of the Noticias Ilustrado, a young man came in to ask for work and was hired as an illustrator. His name was JoséSobral de Almada Negreiros (1893-1970), Portuguese painter and writer. Almada Negreiros and Martins Barata were to become good friends and collaborators on a number of occasions. The painting to the left is one of Almada Negreiros' best known: A Portrait of Poet Fernando Pessoa (1954), oil on canvas (201×201 cm), exhibited at the Museum of the City of Lisbon.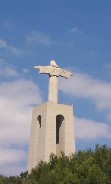 Francisco Franco, Portuguese sculptor, collaborated with Martins Barata (and Leopoldo de Almeida) in the creation of one of the side altars for the Basilica of St Eugene, in Rome (see selected works). A decade later he would work (with architect António Lino and engineer Francisco de Mello e Castro) on one of the largest pieces of sculpure ever made in Europe: the monument to Christ the King, located south of Lisbon, across the river Tagus.
Many other names could be added to the list of artists that met in Lisbon in the early part of the Century. It was a truly remarkable generation of artists. We conclude by mentioning the names of five other painters and presenting a sample of their work: Carlos Botelho (who collaborated in Noticias Ilustrado), Eduardo Viana, Diogo de Macedo, Jorge Barradas (another collaborator in Noticias Ilustrado), and Abel Manta.
Carlos Botelho (1899-1982)
Lisbon and the Tagus (1935)
oil on canvas (71×100 cm)
Museu do Chiado (Lisbon, Portugal)
Eduardo Viana (1881-1967)
La Petite (1916)
mixed medium on canvas (104×83 cm)
Gulbenkian Foundation's Center for Modern Art (Lisbon, Portugal)
Diogo de Macedo (1889-1959)
The Inquisitor (1922)
oil on wood
National Museum Soares dos Reis (Oporto, Portugal)
Jorge Barradas (1894-1971)
ABC magazine cover (1921)
gouache on paper (25×17 cm)
Gulbenkian Foundation's Center for Modern Art (Lisbon, Portugal)
Abel Manta (1888-1992)
Camões Square, Lisbon (1964)
oil on canvas (57×70 cm)
João Abel Manta's private collection (Lisbon, Portugal)

© 2000-2012 L Cabral | Design and hosting: L Cabral and Arte Numerica
HTML check