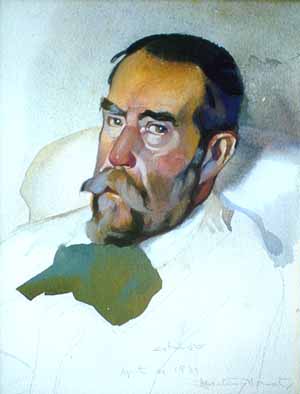 Alfredo Roque Gameiro
Portuguese watercolor painter
(1864-1935)
A family of artists
Roque Gameiro did not just leave us an admirable collection of works; he also left us a family of artists. All of his five children--Raquel, Manuel, Helena, Mamia and Rui--were important artists in their own right.
Raquel Roque Gameiro Ottolini (1889-1970) became a distinguished watercolor painter and received numerous awards, including the Medal of Honor of the Portuguese Fine Arts Society. Her work can be seen in the Lisbon and Madrid museums for Contemporary Art.
Manuel Roque Gameiro (1890-1944) worked on various media, including watercolor.
Helena Roque Gameiro (1895-199?) is well known for her watercolor landscapes. At age 14, she started to help her father run the painting course he led from his studio in Lisbon. She married J Leitao de Barros (1896-1967), one of Portugal's leading film directors of the 20th Century.
Mamia Roque Gameiro (1901-1996) painted in watercolor, gouache and oil. She was also an arts teacher. In 1925, she married the painter Jaime Martins Barata (1899-1970).
Rui Roque Gameiro (1907-1935) tragically died at a relatively young age. By then he was already an accomplished sculptor, with works in Portugal and Mozambique.
Related links
Like her father (and brother-in-law Jaime), Raquel Roque Gameiro designed a number of stamps for the Portuguese Post Office, including this series on Portugese costumes.


© 2000-2012 L Cabral | Design and hosting: L Cabral and Arte Numerica
HTML check